35th Labor & Employment Law Annual Meeting and
24th Annual Public Sector Conference
April 12-13, 2018 ~San Francisco

Program Materials
We have placed the program materials online for you to peruse and/or print before the Conference. In the event that we receive supplemental program materials - we will post these materials to the website after the Conference. Thank you for taking part in our efforts to reduce our carbon footprint.
ANNUAL MEETING PUBLIC SECTOR EVENT SCHEDULE.pdf
ANNUAL MEETING PUBLIC SECTOR BROCHURE.pdf
35th Labor & Employment Law Annual Meeting
01-How the National Climate Affects California Labor and Employment Law.pdf
02- Review of Recent Employment Law Cases.pdf
03-Naughty Clients, Ethical Lawyers (What to Do When Your Client Does Something Bad).pdf
04-Reasonable Accommodation.pdf
05-Update On Recent Changes to Federal Labor Law: A View From Within.pdf
06-Mediation-What Goes On in the Other Room.pdf
07-Breaking Barriers: Building Diversity in the Tech Industry.pdf
08-War Stories From Successful Trial Lawyers.pdf
24th Annual Public Sector Conference
09-In One Year and Out the Other.pdf
10-Anti-SLAPP Motions in the Public Sector.pdf
11-PERB at the Bargaining Table: The Impact of PERB Decisions on Labor Negotiations.pdf
12-Introduction to Public Sector Employment Litigation.pdf
13-Practical Applications of the Public Act.pdf
14-Digging Deep into Disciplinary Appeal Hearings: Winning Strategies for Employers and Employees.pdf
15-Contracting Out Privatization of the Public Sector Work.pdf
16-Judges Panel-Persuasion-Advise from Your Audience.pdf
18-Luncheon Program-Fierce Not Frazzled: Science-Based Resilience Strategies for Lawyers to Protect Fitness for Practice and Thrive.pdf
---
The Labor & Employment Law Section extends its appreciation to the 2018 Sponsors!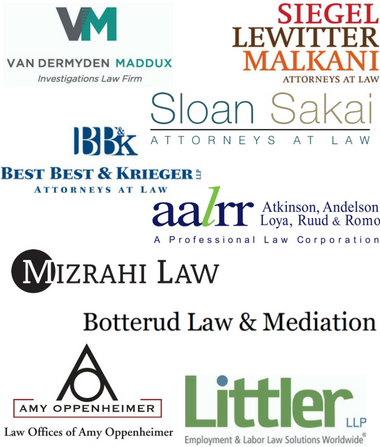 ---
SAVE THE DATE- UPCOMING PROGRAMS
Thursday April 26th, 2018 -Webinar
What Every Employment Lawyer Should Know About False Claims Act/Qui Tam Litigation
Thursday July 12th 2018, 2018- JW Marriot L.A. Live
Wage & Hour Conference
---
Points of view or opinions expressed in these pages are those of the speaker(s) and/or author(s). They have not been adopted or endorsed by the California Lawyers Association Board of Representatices and do not constitute the official position or policy of the California Lawyers Association. Nothing contained herein is intended to address any specific legal inquiry, nor is it a substitute for independent legal research to original sources or obtaining separate legal advice regarding specific legal situations.
©2018 California Lawyers Association
All Rights Reserved